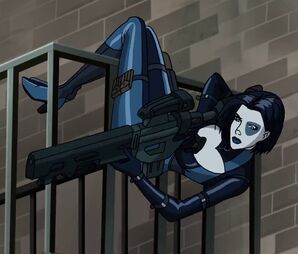 Domino real name Neena Thurnan is a female assassin who was recently offered a place in the Suicide Squad.
Powers and Abilties
Edit
Probability Manipulation: Domino is a mutant with the ability to subliminally and psionically initiate random telekinetic acts that affect probability in her favor by making improbable (but not impossible) things to occur within her line of sight, thus causing her to have "good luck" and her opponents to have "bad luck." This phenomenon can be anything from an enemy's equipment failure to hitting just the right switch with a stray shot to shut down an overloading nuclear reactor. The full extent of her powers is still unknown.

As a byproduct of her probability abilities, Domino's cerebral cortex emits a current of bio-electric pulses down her spine to instinctively guide her movements during such situations, which has the added effect of augmenting her natural reflexes and agility to near-superhuman levels.
Personality
Edit
Background Information
Edit
Ad blocker interference detected!
Wikia is a free-to-use site that makes money from advertising. We have a modified experience for viewers using ad blockers

Wikia is not accessible if you've made further modifications. Remove the custom ad blocker rule(s) and the page will load as expected.